A Brief Guide to Claiming Dependents
Claiming a dependent on your taxes can save you thousands of dollars a year. The government provides these tax credits to ensure families can adequately provide for their children or other adults who depend on them for support. Seeking professional tax help is the best way to ensure you get your full benefits, but here's a guide to the basics.
Who Can You Claim as a Dependent?
To claim a person as a dependent, they must be related to you or under your legal guardianship. Generally, the individual must also be under 19 years old or a student under 24. Adult children with permanent disabilities can also be claimed, regardless of age. However, you cannot claim someone as a dependent if you're the dependent of someone else. The IRS provides a qualifying dependent test to explain eligibility, although a tax help professional can also assist you with this.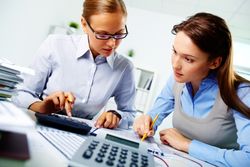 What Credits Are Available?
Several tax credits are available for people with dependents. For example, with the Child Tax Credit, you can receive up to $2,000 per child under the age of 17. The Additional Credit also applies when the $2,000 is more than what you owe in taxes. The Child and Dependent Care credit can amount to up to 35% of the first $3,000 of costs for one dependent or $6,000 for two or more. With the Earned Income Tax Credit, you may be eligible to receive up to $6,660 if you have three or more child dependents and meet the income requirements. Finally, a $500 Credit for Other Dependents can cover children and adult dependents who don't qualify for the Child Tax Credit.
If you need tax help in the Silver Spring, MD, area, turn to ZP Tax, Inc. These professionals have served Montgomery County for over 20 years, earning a reputation for their speed, accuracy, and exceptional customer service. From individual income tax prep to bookkeeping and payroll services and cryptocurrency, they provide a range of services for individuals, families, and businesses. Call (301) 587-4829 to schedule an appointment today, or visit their website to learn more about what they have to offer.